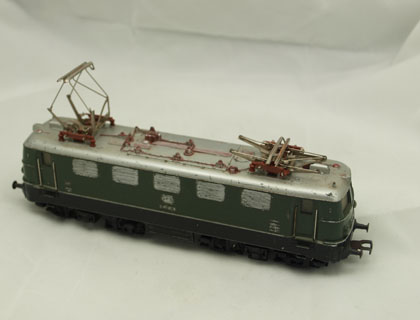 We are always open to gaining new innovative ideas for model train enthusiasts. In producing a model train ample planning is necessary before embarking on the project. In our exemplar a Märklin Ho lock Model 3037 of 1965 was available, which was origionally manufactured by Henschel at the end of the 1950s. The locomotive was in a bad condition .The idea was to convert the locomotive into a variant of the `Deutsche Bahn`from 1967. The original had a circular gutter drainage and a silver rooftop. Due to the fact that the drainage rusts quite quickly the locomotives were converted at the end of the 1960s according to construction series E41. In the course of converting the model the drainage has been removed and replaced by four smaller drainage gutters above the doors. The roof has also been spray-painted green.In order to build a new model it is first of all necessary to have plans and pictures in place. Pictures are necessary because in the course of building not all locomotives are built according to the given stipulation.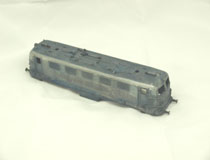 Initially the varnishing on the casing has to be removed. The drainage and the signs are removed with the help of a file. Lastly every component is smoothed out with varnishing gel.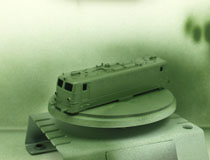 The casing has to be cleaned before spay-painting. Choosing the right kind of varnish is important because not all varnishes whether glistening or frosty adhere to the casing manufactured out of zinc casting. Eventually, the casing might need to be sprayed with an adhesive fluid. It is advisable to work without adhesive fluids so that the details are better preserved.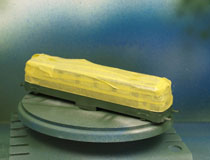 The casing needs to be covered with adhesive tape before being spray-painted. There are various adhesive tapes, foils and coverings that can be purchased for this purpose. It is worth using a good quality band or foil. These materials need to be soft and smooth and not too strongly adhesive.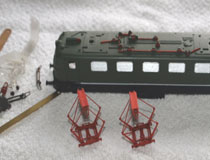 The model train is in need of a new current collector, which has already been spray-painted in the appropriate colour. The metal sheets have been covered to protect them from the red paint
The model locomotive can be dismantled due to the fact that the locomotive can only be operated together with the "Silberlingen".
The replica should have an original coupling and a brake hose should be installed. The model trains also requires labeling. In order to accomplish this an appropriate assembly kit is required. The molding must be separated and filed. Thereafter the pieces are placed in the spray booth and require a coat of black paint. The grand lettering on the locomotive needs to be sanded down after spraying with the varnishing gel. Drill holes have been made in the cast-casing in order to stick on the hoses and the coupling. After this everything is stuck on the casing. The alining of the lettering needs to be done very carefully and with precision.